Bangkok Erotic Massage for Couples (Couples Massage)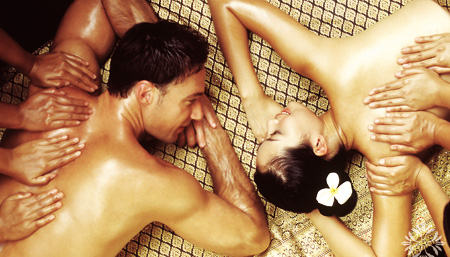 Bangkok Outcall massage for couples is one of the most popular services we offer and is becoming the favorite amongst couples nowadays. We offer the most relaxing and pleasing Bangkok outcall couples massage service. You and your beloved partner will enjoy the wonders of service, either a therapeutic and traditional Thai massage or even erotic and sexual session. Presence of clients' partner in the same place makes the performance less intimidating and lets both to feel more relaxed and delighted. Some people are nervous about experiencing erotic session but are more restful in the presence of their partner.
Couples massage session is a marvelously delightful and restful, experience for couples and is more adventurous if you decide to experience erotic session with your partner. During this relaxing erotic session, couples receive massages simultaneously beside together from different masseuses or masseurs. Both of you have option to choose male or female therapists for your session. Massage for couple offers lots of the same advantages as other kinds of massage however with some extra benefits.
Not similar to traditional massages in Bangkok that are applied solo, couples treatments let clients to try the session with their partner either friend or other partner intimately. This fondness gives tranquility to first-timers who probably feel nervous or excited about the erotic intimate massage service.
Erotic Couple Massage Outcall Service
Our Bangkok Couples Massage Services in Bangkok are ideal for curious partners who want to spice up their relationship and sexual life; or adventurous couple who wants to experience extra levels of excitement, kink, and thrill! Couple will be coddled, teased, and tempted by one of our impressive male or female therapists according your personal desires and fantasies.
Bangkok outcall Massage for couples is perfect for those partners who love to be perfectly pampered and seduced at the same place and the same time. Participate in this exceptional erotic experience of a concurrent abreast sensual massage session in Bangkok. Be delighted in an amazing erotic mood of happiness with your partner for a magnificent time. Look at your partner's reflexes to magical sensual techniques performed by expert therapist. Be moved to new passionate levels, experience new feeling and explore a way to enhance your vivacity and well-being using your sexual power in a new brilliant behavior.
Please call and book this service in advance. Our fully trained receptionist can assist you in selecting the best masseuse(s) for you.