Four Hand Bangkok Massage Outcall Service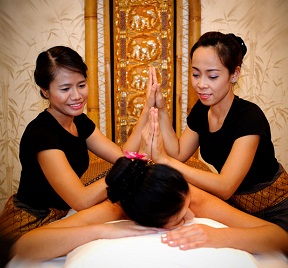 Four Hand Massage is defiantly one of the most amazing erotic massage services in Bangkok, four magical hands on your body let you to engage yourself in deep relaxation. For hand massage session is performed with preheated aromatic oil. The touchy hands of professional massage therapists work side by side on your body, the chest and the legs, or one therapist performs on the back, and another massage your feet.
During the four hand massage session it is very important that two therapists be consonant and performs the massage together synchronized. Both Therapists must to begin and finish the study of an area. Parallel to professional skills, knowledge and experience of the two therapists is very important too.
This wonderful technique performs delightful pressure on specific areas of your body to relieve tiredness and provide relaxation. The result of the four hand massage is not just because you get touched with two therapists at the same time; the mystery is about physiology of body.
During work of one therapist on one area of your body with sexually arousing touches and rubs, the second therapist will be performing sensual massage on other Area of your body and this compound of rubbing and sensual stroking is completely adequate to make everyone's feeling in a spin!
Bangkok Duo Massage Outcall Service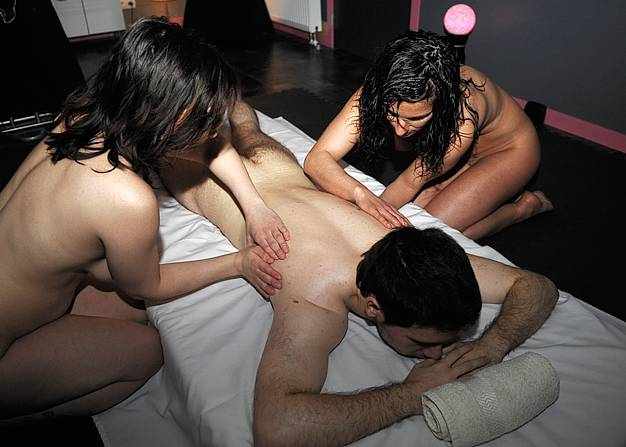 If you would like to take shower with two therapists before main massage session and get prepared for the main session this also can be done as an extra for your 4 handed massage service. The therapists will also make sure that the erotic massage session is done in a most tempting and sexual way, by ensuring that the place for massage is very convenience for you before starting the treatment with some relaxing and emotional music playing and very dimly lit atmosphere to totally make the whole erotic and sensual theme ready to go from the start of the erotic four hand massage experience.
You will feel completely relaxed and delighted after an exceptional four hands massage outcall in Bangkok with our professional masseurs and masseuses who know all the secrets of your body's physiology! Professionalism and experience are two significant reasons that make so many of our clients return for the 4 hands massage experience in Bangkok with our agency.
We have many young and attractive male and female therapists as well as seductive Thai ladyboys who can perform four hand massages together in Bangkok. What you need is just contact us and our operators will assist you to choose the most suitable therapist partner to perform an unforgettable four hand massage for you in Thailand.